Curls are like the evergreen fashion for women. Some are naturally gifted with amazing curls while others long for curls. The key to creating gorgeous curls for these women is a good curling iron. However, selecting a curling iron is not as easy as it seems.
We want a curling iron that is easy to use, heats up sufficiently to provide good curls and not burn your hairs in the process. We also do not want to be the ones who have an embarrassing story about how we messed up our hairs on the first attempt at a curling iron.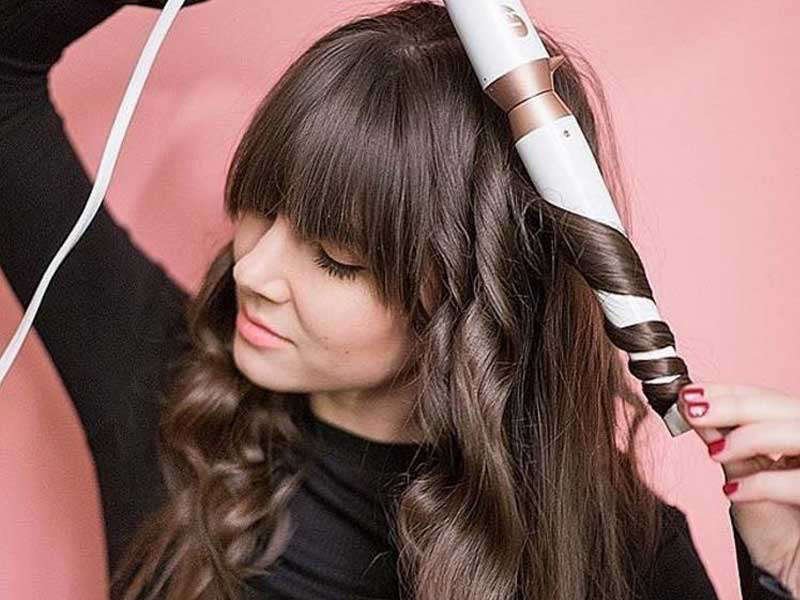 Fortunately, we have a solution to your problems and we have analyzed what are the features that are needed in a curling iron. We have also picked out a few of the curling irons from a huge range of products to help you choose the best for you in your budget.
Things to consider while choosing best Curling Iron
While looking for a curling iron, the features in the curling iron can be confusing! We have just the right solution for you. Here are the elements you must consider while looking for a new curling iron:
Barrel size
The barrel has a heating element located in it and is useful for monitoring the temperature which reduces the chances of accidental burn. A larger barrel size (above 1¼ inch) gives you soft and beachy waves. Smaller barrel size gives you tight curls.
Material
Ceramic or Titanium are the materials commonly used for styling. Titanium barrels heat up to high temperatures. So, it will provide proper curls to the thick hairs. But they can also cause damage to the short hairs due to the same property.
Ceramic curling irons provide you with multiple heat settings. Thus, allowing the device to suits all types of hair and also providing you with full control of the device.
Adjustable heat settings
Different sizes of hairs, require different temperatures to provide proper curls. Thicker the hair, the more heat it requires. So, a curling iron with adjustable temperature is necessary. Adjustable temperature settings will make the process easier for you.
Cord Length
A longer cord length provides you hassle free access to the curling iron around your head. Some curling irons have cords that provide you 360 degrees experience. This canmake your wrist experience less painful. Thus, a longer cord is always beneficial for a comfortable use.
Automatic shut-off
An auto shut-off feature in the curling iron makes you tension free about the burn a curling iron can cause or remembering to unplug the curling iron since it shuts off for on its own.
Top 10 Curling Irons to use!
Analyzing the elements required for different types of hair will guide you to choose a right curling iron while shopping.
Here are our best choices of curling iron for natural hair by our experts.
HOT TOOLS Professional 24k Gold
This took a little getting used to but I wanted to try this brand because it was used on me at the salon with positive results. My normal curling iron is a 1″ Babyliss so I wanted to try the larger barrel Hot Tools in a 1.5″. Heats quickly and evenly and I have no damage or pulling of my hair. It's not as slippery smooth as the surface of my Babyliss but I got used to it very quickly.
Because picking the right size barrel is extremely hard, I want to share a picture to show the result of using a 2-inch curling iron. As you can see, you get a blow-dry effect with very loose curls at the end. The gold plate makes hair shiny and smooth, but it sort of weighs hair down just a bit more than the ceramic barrels.
Features
Rotating Cool tip for faster curl wrapping
Pulse Technology – Gets Hot.Stays Hot
Extra-Long Barrel is 2″ longer than regular barrel length
For wand use, simply wrap hair around the barrel to create beachy, wavy curls
Rheostat temperature control dial with variable heat settings up to 430°
Pros
Separate On / Off switch
Foldaway safety stand
"On" indicator light
Separate On / Off switch
Bonus! Heat-resistant mat
8 ft. Professional swivel cord
Cons
None- overall a great product
Ratings
4 stars out of 5 stars (average customer ratings)
BaBylissPRO Nano Titanium Spring Curling Iron
BaBylissPRO Nano Titanium1 1/4″ Spring Curling Iron with Sol-Gel Ceramic technology creates the smoothest surface possible for easy styling. 50 heat settings up to 450 F Degrees and turbo button instantly boosts heat to the maximum temperature and an 8 foot tangle free cord allows for easy styling.
Curlshold for 4 days – Curls that just won't quit. It's wonderful, especially having just had shoulder surgery.
Handle and wand are very long – You need this length if your hair is long and you are wrapping most of it around the barrel for beauty, loose curls. This is one of the most critical differences between this iron and others.
Heat holds steady at set temperature.Holds hair firmly, does not slide through.
Features
Sol-Gel nano titanium/ceramic barrel
50 heat settings – up to 450°F
Turbo Heat button instantly boosts heat
8-foot tangle-free swivel cord
Pros
The Nano titanium barrel offers even heat distribution
50 heat settings
Less damage
Heat up quickly
Cons
None- overall a great product
Ratings
4 stars out of 5 stars (average customer ratings)
Conair Instant Heat Curling Iron, 11/2-inch Curling Iron
I have super thin straight hair. I did my hair this morning at 5 .M. It is now 7 P.M. and even though it isn't extremely curly like it was when i did it, it also isn't flat. My hair usually is flat after just a couple hours. It still has a ton of body to it still! I used very little hairspary! I am also seriously impressed that it has a turbo heat button which makes it heat up fast. Within about 2 minutes of plugging it in and turning it on it was fully heated
I am a black women with 4a/b/c hair. What I like is the many heat settings and the the handle has ridges that keeps your hand from slipping which is important if you use any products that may cause your hands to be slick. I've only gone up to about 17 of the 25 heat settings. Good so far.
Features:
Conair Instant Heat 1 ½ inch Curling Iron designed to create big beautiful soft waves
25 heat settings for all hair types with instant 30-second heat up to 400 degrees F and Turbo Heat feature, which increases barrel temperature by up to 36 degrees F
Patented Euro design, nonslip grip handle
Extra-long cool tip and Auto-Off feature
Dual voltage for international travel
Pros
Creates big soft waves
Auto-off feature available
Minimal heat damage
Cons
None- overall a great product
Ratings
4 stars out of 5 stars (average customer ratings)
Miropure Curling Iron 1 1/4-inch Instant Heat with Extra-smooth Tourmaline Ceramic Coating
This was my first curling iron, and I was totally impressed by it. I just pressed the button, and the iron started heating up instantly. The curling iron has a temperature reading to see how hot it has become. You can also change the temperature to satisfy your hair type (lower temperatures for thin hair or higher temperatures for thick hair)
This curling iron is amazing. The packaging was very high end, come with clips, a heat resistant glove, and a case for the iron to sit in after you are done using it. I tried it this morning, and I must say, its a game changer. Heats up very quickly, the wand grabs the hair quite snug, and releases it with no issues, and makes a long lasting curl.
Features
Dual voltage (100V-240V) for worldwide use, ideal to bring along with you
410°F highest heat setting, MiroPure 1.25 inch curling iron barrel for long-lasting large volumizing curls
Instant 30-seconds heat-up with extra-long cool tip and nonslip grip handle, safe to use
The salon level curling wand help you reduce static and frizz for healthy-looking hair with extra-smooth tourmaline ceramic surface to get superior performance
One button to control temperature settings, on & off; auto-off
Pros
Portable nad compact
Less damage to the hair
Reduces static and frizz
Nonslip grip
Cons
None- overall a great product
Ratings
5 stars out of 5 stars (average customer ratings)
The Beachwaver Co. Beachwaver Pro
My hair has never looked this good after curling it and I've tried several different types of irons. I do find crimps at the end if I don't get enough hair in the wand but that's the only thing I need to work on. The hair always falls perfectly in to a beautiful wave after I take it out of the iron. The curls last all day.
Features
1.25″ Barrel Diameter
6.5″ Protective Ceramic Tourmaline Rod
Dual Rotation: Rotates Left and Right (based on side you are curling)
Heat Range 310º F – 450º F in 30 seconds
Customized Full Length Internal Heaters
Pros
This professional, rotating curling iron provides easy, quality waves in minutes!
Less damage to the hair
Long-lasting curls
9 foot long handle
Cons
None- overall a great product
Rating
4 stars out of 5 stars (average customer ratings)
GHD Curve Iron Curl
This iron heats up in about 20 seconds and makes the most perfect curls in my hair and the curls last all day unlike other irons that I've tried.
This feels like a quality curling iron, much like ghd's superior ceramic flat iron. My hair just slides onto the curling wand and doesn't get caught or stick like so many other curling irons I've tried. In this regard, this product excels.
Features
Heats up to 410°F
Ultra-heat technology for even heat
Long-lasting curls
Minimizes heat damage
Pros
 Ultra-zone technology for gorgeous, shiny, long-lasting curls.
Wrap hair around barrel
Minimal heat damage
Cons
None- overall a great product
Ratings
4 stars out of 5 stars (avearge customer ratings)
T3 – SinglePass Curl 1.25 Inch Professional Curling Iron
The heat-up time is quick and I appreciate the sleek design and long cord. It's a good weight and easy to hold and use. The simple base on the T3 is so much better than the folding stand on my old irons as they were always collapsing or getting hung in the cord. The 1.25 barrel is a good all-around size to create a variety of styles on my medium length hair. The "one pass" claim on the highest heat setting worked like a charm on my hair texture (3A) and my loose beachy styles waves stayed well into the next day.
I love this curling iron! I have very thick long hair that is hard to curl. This iron heats up super fast and curls beautifully.
Features
Heats up to 410°F
Lightweight design
Universal voltage settings
Comes with a 9ft swivel cord
Pros
Universal voltage design
Very lightweight
Easy to use
9 feet swivel foot
Cons
None- overall a great product
Ratings
4 stars out of 5 stars (average customer ratings)
BIO IONIC Curl Expert Pro Curling Iron, 1 Inch
This makes the most beautiful curls in no time. My cousin who is a hairdresser and owns her own salon says "it is so amazing that it must be filled with diamonds".
Seems to Works well but Clamp is not very tight so does not hold my hair long enough to curl it unless I put a thick amount of hair in clamp.
Features
Lightweight
Gives you long-lasting, shiny curls
Dual voltage
Suitable for all hair types
Pros
Lightweight
Doesn't get too hot
All hair types recommended
Cons
None- overall a great product
Ratings
4 stars out of 5 stars (average customer ratings)
Conair Double Ceramic Curling Iron, 1.25 Inch curling Iron, White/Rose Gold
My hair is very long and fine and hard to curl. I bought this one on a whim, it was so cheap and the right size. I didn't want the clamp since I have a hard time not getting crimp marks on my hair with the clamps and they make it hard to curl in the right direction sometimes (if that makes sense) but I was limited with options in the clipless wand department so I bought this one. First of all, it gets very hot and seems to create a much better curl than the other models I tried.
Features
30 heat settings for every hair type
High heat 375°F
Turbo Heat – Up to 27°F burst of heat for difficult-to-style spots
Recessed buttons prevent accidental shutoff
Pros
Instant heat-up
Heat and damage protection
Anti-frizz control
Cool tip for easy handling
Cons
None- overall a great product
Ratings
4 stars out of 5 stars (average customer rating)
Curling Iron 1.25 Inch, SUNLUNA
This heats up fast and does awesome curls. My hair is super thick and this iron curled it with no problems. It has multiple heat settings too.
It heats quickly, and the digital temperature gauge is very helpful for getting the right amount of heat. I like the inserted power and temperature buttons and digital display. 400 degrees is hot enough as any hotter puts that shine and dent in the hair. The iron itself is attractive and has some serious heft. It isn't lightweight, but that's a plus in my book because of its professional feel and look. As a bonus, the iron comes with a heat resistant glove and 2 x Curl Clips.
Features
Automatic shut-off: 60 minutes
Heating time: 60 seconds
Temperature: 120°C (230°F) to 220°C (430°F)
Voltage: 100V-240V 50/60Hz
Pros
Heats up in 60 secs
 LCD real-time temperature display
anti-scalding & anti-slip bracket
ceramic curling iron tourmaline coating provides an even heat up
Cons
None- overall a great product
Ratings
4 stars out of 5 stars (average customer ratings)
Summary
Here you go, our top ten list of the best curlers on the market! Whichever one you choose to buy, rest assured that you will end up with gorgeous soft curls that are long-lasting and beautiful.
Do check out more content on our website and let us know your thoughts in the comments down below!
7 best Facial Hair Removal Creams
Top 10 Body Care Moisturizers in 2020
Best Body Wash for Dry Skin & Sensitive Skin
How To Become a Makeup Artist: A Step-By-Step Guide [2020]
How To Become A Fashion Designer – Skills You Really Need [2020]