The Korean Beauty industry has revolutionized the standard skincare routines around the world, with their stellar and innovative products and their famous multiple-step skincare regimes. You may think Koreans must have found the fountain of youth, considering how good and flawless their skin looks, but it really is their amazing skincare products.
Koreans have a strict clean beauty rule- that is they use all-natural and sustainably harvested raw ingredients from nature bounty to create their excellent formulations. K beauty has taken over the global skincare and makeup industry over recent years, gaining a dedicated fan following worldwide.
Koreans have come up with a lot of new, bright ideas- like their multiple-step skincare routines, Snail creams, BB and CC creams, Micellar waters, Cushion Foundation, their lip and cheek stains and the usage of toners.
Although toners have been around for a long time, a surprising amount of people don't use them in their skincare routines. There are many misconceptions about toners, especially that they simply don't work. But that's not true. Toners help in balancing the pH of your skin, which gets disturbed when you wash your face. Hence toners are recommended to be used right after cleansing.
Korean skin toners have many active ingredients in them that help in boosting your collagen production, minimizing the appearance of pores, hydrating dehydrated skin and protect skin's moisture levels. Read on to discover 9 best Korean toners that will transform your skin!
Top Nine Best Korean Toners for all skin types
SON & PARK Beauty Water
A versatile product that acts as a cleanser, toner, and exfoliant all in one, this cult product from Son and Park is beloved by many K beauty enthusiasts and dermatologists alike. The brand Son and Park was launched by celebrity makeup artists Son & Park and their skincare products have become a smash hit throughout the K beauty world.
SON & PARK Beauty Water is an all-rounder, multi-tasking product. This is the perfect toner for all skin types, as it helps with refining skin texture and minimizing the appearance of pores. It has a pH of 5 and can effectively balance your skin's pH levels after cleansing. It is formulated with papaya extracts and willow bark extracts to gently exfoliate and clean your skin of any residue left after cleansing.
Beauty Water also consists of rose water, lavender water, and orange extract that will replenish your skin and give it a boost of hydration to prep it for your next skincare product. Apart from all these uses, it can also be used to remove your makeup and refresh it throughout the day.
Features
Multi-functional product
Balances the skin's pH levels
Gently exfoliates the skin with papaya extracts and willow bark extracts
Hydrates the skin post-cleanse with rose water, lavender water, and orange extract
Pros
Pros
Cult-favorite among K beauty addicts and professional makeup artists
Muti-purpose; can be used as a toner, exfoliant, and boosts hydration
Efficient as a makeup remover and can be used as a refreshing mist
Brightens skin texture and minimizes the appearance of pores
Cons
None- overall a great product
Ratings
4 stars out of 5 stars (average customer rating)
Earth's Recipe Energy Boosting Toner
Earth Recipe's Energy Boosting Toner has gained a major fan base since its launch. Named "a sheet mask in a bottle", the toner has the consistency of a serum and delivers an instant glossy glow to your skin as soon as you apply it after cleansing. The toner is marketed as suitable for sensitive and acne-prone skin and contains no alcohol or parabens.
The all-star ingredient that makes this toner so effective is tremella mushroom extract, a widely used K beauty ingredient that is known for its intense hydrating properties that will make your skin soft and bouncy. Apart from this, it is also formulated with a number of herbal extracts that are rich in collagen and active ingredients such as hyaluronic acid and ceramides.
These active ingredients provide a hydration boost to your skin and form a protective film on your skin to prevent moisture evaporation and strengthen the skin's moisture barrier. Although it is designed for sensitive skin types, all skin types can benefit from it, especially the aging skin types.
Features
Formulated with Trismella Mushroom extracts, a humectant known to provide rich moisturizing to the skin
Natural herbal extracts rich in collagen and active ingredients
Suitable for all skin types
Alcohol and paraben-free
Pros
Alcohol, paraben, sulfates free formulae
Cruelty-free
Made from all-natural herbal extracts that provide anti-aging benefits and protect the moisture barrier
160 ml, generously sized bottle that will last you for ages
Cons
None- overall agreat product
Ratings
4 stars out of 5 stars (average customer ratings)
Whamisa Organic Flower Deep Rich Essence Toner for Face & Body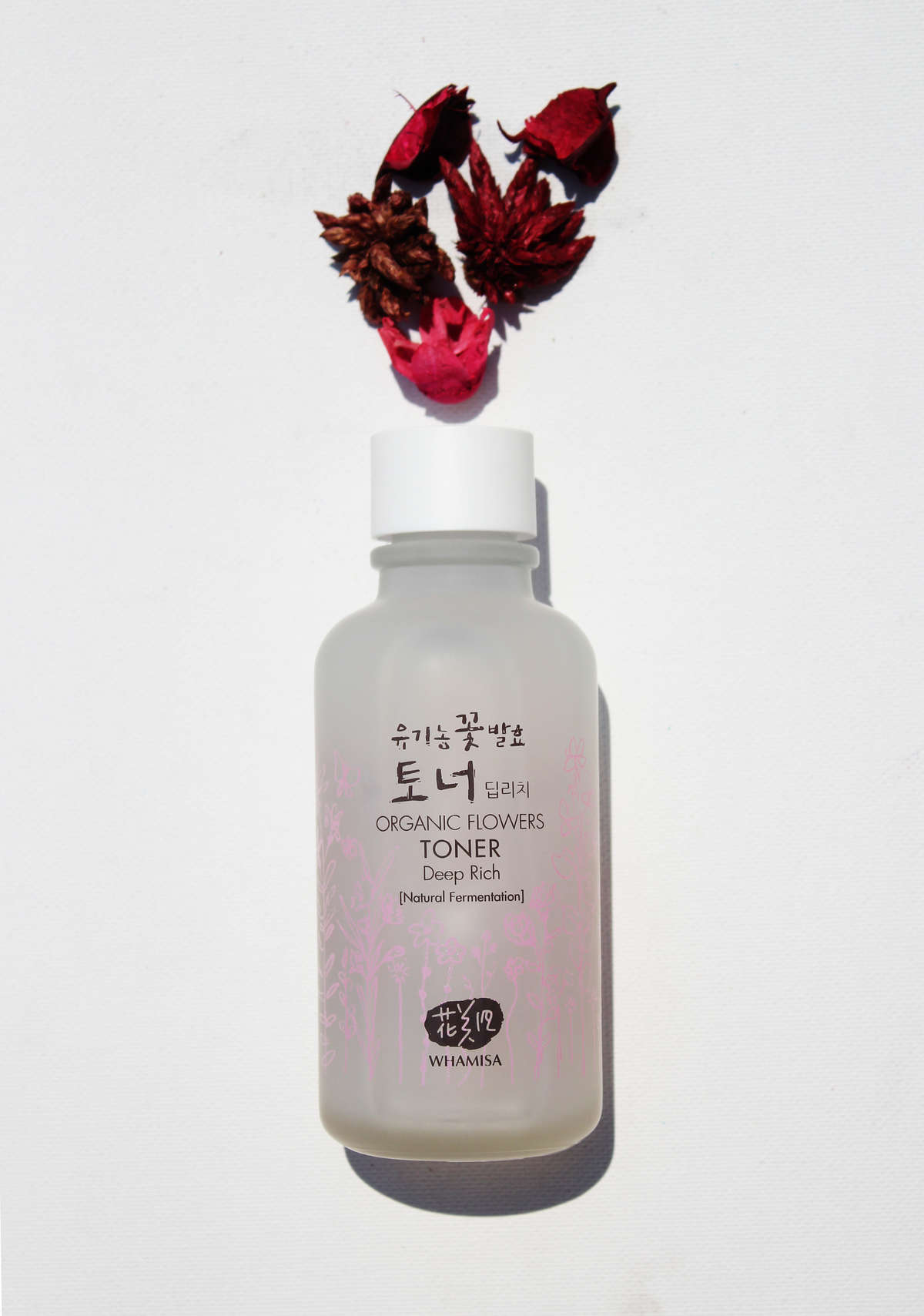 Whamisa is a skincare brand from Korea that prides itself on using natural, organic formulations that are achieved by fermentation. Fermentation is a process by which the raw, organic material is refined thoroughly so that the bacteria and microbes in them are destroyed and the raw ingredients become more concentrated in skincare active ingredients such as amino acids and peptides.
These nutrient-rich ingredients are then used in skincare products, a trend popularized by K beauty. Whamisa's Organic Flowers Toner contains organic fermented flower extracts such as chrysanthemum and dandelion and other ingredients such as Aloe Vera, Avocado Oil, Argan Oil, and Broccoli extracts.
The combination of these moisture-rich ingredients works to intensely moisturize your skin, speed up cell turnover, boost collagen production that will, in turn, prevent signs of aging and soothe redness, inflammation and acne scars.
Features
Formulations made from 97.5% fermented ingredients that are more nutrient-rich
Flower extracts such as dandelion and chrysanthemum that provide rich moisture and hydration
Aloe Vera and Broccoli extract to soothe redness and inflammation
Anti-aging properties and suitable for all skin types
Pros
Pros
Fermented nutrient-rich ingredients that work to make the skin more hydrated
Unisex; can be used by men as an aftershave
Safe for usage on children due to hypoallergenic properties
Delicate, floral fragrance
Alcohol and paraben-free
Cons
None – overall a great product
Rating
4 stars out of 5 stars (average customer rating)
Amore Pacific Sulwhasoo Balancing Water EX
Amore Pacific Sulwhasoo has become a coveted, much sought after Korean skincare brand that has been putting out stellar, innovative skincare products that have taken the beauty community by storm. They are known for using traditional Korean herbs in their skincare products known as hanbang
Sulwhasoo Balancing Water is not your typical alcohol toner- it is formulated with three powerful antioxidants- Matrimony Vine, Ophiopogon Japonicus Root Extract, and Camellia Sinensis Leaf Extract. These ingredients give the product powerful anti-aging properties.
The gel-type consistency of the product makes it fast-absorbing, flooding your skin with rich hydration and improving its texture. It restores the pH balance of the skin after cleansing for better absorption of following products. Purslane is another effective ingredient present that hydrates and strengthens the skin's moisture barrier as matrimony vine soothes and calms inflamed skin.
Features
Powerful, anti-aging antioxidants such as Matrimony Vine, Ophiopogon Japonicus Root Extract, and Camellia Sinensis Leaf Extract
Gel consistency absorbs easily into the skin
Purslane strengthens skin's moisture barrier
Suitable for all skin types
Pros
Anti-aging properties due to the presence of anti-oxidants
Intense hydration
Gel consistency for easy absorption
Suitable for all skin types, especially aging skin types
Cons
None -overall a great product
Ratings
4 stars out of 5 stars (average customer ratings)
AHC Aqualuronic Toner For Face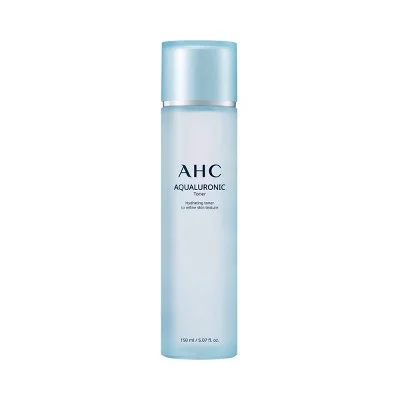 Aesthetic Hydration Cosmetics or AHC as they are commonly called have gained a foothold in the K beauty industry with their products being adored by many across the globe and selling out in minutes. From their stellar eye creams to this unique toner, AHC products never fail to delight us with their innovative, high performing formulaes.
This seriously quenching toner will boost your skin's hydration levels with its triple-layered formulae of hyaluronic acid, ceramides, and French seawater. The powerful combination of these three ingredients works to flood your skin with moisture and prep it for better absorption of other products.
French seawater is known for its mineral-rich properties, combined with Ceramides that fortify your skin's natural moisture barrier. They work to provide skin deep moisture and a radiant face that looks lit from within.
Features
Triple-layer of moisture-bearing ingredients for hydrated skin
Lightweight, gel consistency for faster absorption
Prepares for higher absorption of other skincare products
Dermatologist tested
Pros
Pros
Intensely hydrating with a triple layer of hyaluronic acid, ceramides, and French seawater
Fluid consistency for smooth absorption
Alcohol and fragrance-free
Strengthens skin's natural moisture barrier
Cons
Rating
4 stars out of 5 stars (average customer rating)
KLAIRS Supple Preparation Facial Toner
An Amazon bestseller and coveted by sensitive skin types, Klairs Supple Preparation Facial Toner is the gentlest formulae for atoner you will find in the K beauty arsenal. Although formulated especially for sensitive skin types, you can use this toner for any skin type, just increase the dosage.
The star ingredient of this toner is Phyto-Oligo, an extremely hydrating ingredient that can eliminate any type of dryness. Combine this with hyaluronic acid and amino acids such as Centella Asiatica extract, beta-glucan, and lipidure, and you get a winning formula that fortifies your skin's moisture barrier, replenishes it with moisture and soothes and calms inflamed skin.
This toner will gently restore the skin's pH balance after cleansing and flood it with additional hydration while prepping it for the next product.
Features
Specially made for sensitive skins
Contains hydrating ingredients like Phyto-Oligo, and hyaluronic acid
Amino acids from plant extracts that fortify the skin's moisture barrier
Delicate floral smell.
Pros
Pros
Although for sensitive skin types, can be used for all skin types
Intensely hydration due to Phyto-Oligo and hyaluronic acid
180ml bottle will last you a long time
Viscous texture for easy absorption
Cons
Ratings
4 stars out of 5 stars (average customer rating)
THE FACE SHOP Rice & Ceramide Moisturizing Facial Toner
Another bestseller on Amazon, The Face Shop Rice, And Ceramide Facial Toner is one of the best K beauty products you can find on the market, consistently topping every best K beauty list. This toner is very popular for being the best toner for dry skin.
The formula has a high performing combination of Ceramide, Rice Bran Oil, and Rice Extracts. The rice components act as gentle exfoliants, slogging off dead skin gently to reveal a glowing complexion. Ceramides protect the skin's moisture levels and prevent moisture loss.
The toner is made from naturally harvested ceramides and rice to provide the most efficient toning experience. It utilizes nanotechnology, where the ingredients are reduced to tiny particles for better absorption.
Features
Recommended for dry skin types
A winning combination of rice and ceramides
Rice bran oil and rice extracts gently exfoliate the skin
Ceramides protect moisture levels
Pros
Pros
Quick absorbing formula
Paraben-free and alcohol-free
Talc-free and Tar-free
No artificial color or mineral oil
Cons
Ratings
4 stars out of 5 stars (average customer reviews)
MIZON Snail Repair Intensive Toner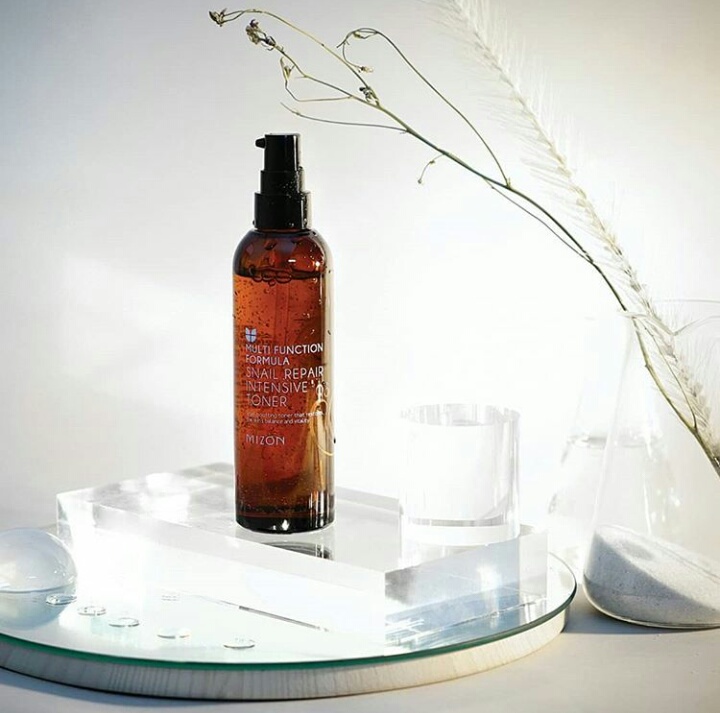 MIZON has a well-received and sought after skincare line formulated with Snail Mucin Filtrate. Snail Mucin is a coveted ingredient used in K beauty for its high content of collagen and hyaluronic acid.
This toner has a 30% content of Snail Mucin, that provides intensive care for skin post-cleanse. The collagen present in snail Mucin helps in cell turnover and regeneration and also improves skin' s elasticity, thus fighting signs of aging such as saggy skin, wrinkles, and fine lines.
Snail mucin also contains anti-inflammatory zinc and manganese that help soothe inflamed skin and anti-oxidants such as vitamins A and E. It is loaded with hyaluronic acid that floods the skin with moisture.
Features
Formulated with snail mucin, an all-star K beauty ingredient
Snail mucin helps in collagen production and has anti-aging benefits
It also moisturizes the skin from within
Lightweight, watery consistency that gets absorbed easily
Pros
SLS-free and Paraben-free
No artificial fragrance and mineral oils
Anti-aging benefits with hydration
Hypoallergenic; suitable for all skin types
Cons
Ratings
4 stars out of 5 stars (average customer ratings)
SKINFOOD Peach Sake Toner
This toner is as appetizing to use as it sounds. Formulated especially for oilier skin types, it will make your pores disappear and excessive sebum a thing of the past. SKINFOOD is a household name in Korea, making quality skin care products since the 50s.
It contains traditional Rice Sake, which is a gentle type of alcohol that works efficiently to reduce oiliness and minimize the appearance of pores. Peach extracts rich in Vitamin A and C act as antioxidants to brighten the complexion and reveal radiant skin post-cleanse. Herbal extracts such as soybean, licorice root, Centella Asiatica and camomile help with soothing acne-prone and inflamed skin.
Features
Formulated especially for oily skin types with enlarged pores
Rice Sake helps in minimizing the appearance of pores and prevents oiliness
Peach extracts have antioxidant properties
Also recommended for acne-prone skin
Pros
Pros
Best Toner for oily skin types
Natural extracts such as Rice Sake, Peach, and others
Paraben-free and SLS-free
No mineral oils
Smooth, lightweight texture
Cons
None; overall a great product
Rating
4 stars out of 5 stars (average customer ratings)
How to choose the right toner
Toners depend on the type of skin you have. All toners balance your pH levels, but some are made especially for specific skin types.
If you have an oily skin type- Oily skin types will benefit from toners that have ingredients that minimize large pores and have shine-control. Look for ceramides and amino acids.
If you have dry skin- Dry skin lacks hydration. An intense active ingredient such as hyaluronic acid will help lock in moisture and retain it.
If you have acne-prone skin- Acne-prone skin types can experience inflammation and itchiness after cleansing. Look for toners that have soothing and anti-inflammatory ingredients such as aloe vera.
FAQs
How does one use a toner?
A toner can be a great addition to your skincare routine. Toners are used as the first step after cleansing your face as they can balance the pH level of your skin that gets disrupted by cleansing and clean any residue left. Use a cotton pad to swipe some generously across your face post-cleanse and let it dry before you use your next product.
Are toners really necessary?
Absolutely! Toners are especially helpful for oily, acne-prone skin types and for people who wear makeup. They act as the last final cleanse, removing any residual makeup left by cleansing. For oily skin types, it can shrink pores and help with textured skin. It helps balance the pH levels of your skin, which can get disturbed by cleansing and lead to more oiliness.
How are Korean Toners different from regular toners?
K beauty utilizes some of nature's most powerful ingredients such as Snail Mucin, ceramides, and hyaluronic acid and uses them in their unique formulations for skincare products. One outstanding feature of K beauty products is that there is no alcohol in them, which is found in many traditional toners.
Summary-
Investing in a toner will completely transform your skincare regiment. Toners are gaining traction now due to te unique and one-of-a-kind formulation that is flooding the K beauty market. With the help of our guide of the top 9 best Korean toners, you will find the perfect toner for your skin type,
Do check out more content from our website down below-
The 9 Best BB Creams For Oily Skin Types
The 9 Best Face Primers for Mature Women
The 9 Best Collagen Creams To Use For Face, Body, and Eyes