Wearing clothes that are wrinkle and crease-free is a no brainer; it makes you look neat and put together, it makes you look more professional and presentable. All of us iron our clothes every day; some steam it as well. Whatever your preference, there is no doubt that these two appliances are an essential part of every household.
Irons have been around for decades and are the most conventional method of removing creases and wrinkles from your clothes. First, they were made to work by utilizing charcoal, and after many innovations we have the flat iron that we use today, powered by electricity.
Steamers, on the other hand, do exactly the same thing that irons do; they too are operated by electricity to produce heat and steam to remove wrinkles and creases. So which is better? This one depends on your needs; what kind of fabrics you need to iron, how much time you can devote to it and so on. There are many factors to consider; such as effectiveness, how quickly the appliance can heat up and how much heat it can utilize to iron your clothes. In this extensive guide, we will discuss the two appliances in dept and show you which one is suitable for your needs.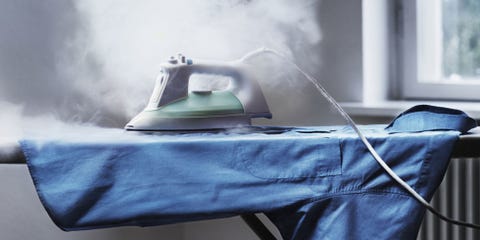 Clothes Iron
Clothes Irons are an integral part of any household. Your wardrobe is incomplete without an iron. These are the traditional go-to appliances for getting your clothes crisp and wrinkle-free. Irons have come a long way from the days of charcoal irons to modern-day irons operated by electricity.
Clothes irons these days come with many awesome features so you can easily iron your clothes to wrinkle-free perfection. Features such as inbuilt steam blast, temperature regulation for different fabrics, soleplates (the base plate of the iron made from materials that don't stick to the clothes or burn them) and many more such innovative features make irons the most convenient and efficient ironing appliance.
With clothes irons, you have more control as you press it along the cloth you are ironing. This allows for maximum heat to be transferred to the cloth and faster wrinkle and crease removal. You will, of course, need a sturdy ironing board such as the Parker & Company – The Pro Board, Extra Wide Ironing Board, and the Minky Homecare Ergo Plus Ironing Board for your ironing time.
Clothes irons are generally of two types- electric irons and steam irons. Electric is as the name suggests powered by electricity. These are some of the most inexpensive irons you can find on the market. Steam irons are the most popular choice on the market, using distilled water to produce steam that will iron out all creases and wrinkles.
Clothes Irons such as steam irons are also the best choice for ironing sturdy fabrics such as cotton, denim, and linen. Steam irons such as the Rowenta DW5080 1700-Watt Micro Steam Iron and the BLACK+DECKER Digital Advantage Professional Steam Iron are excellent for easily ironing tough creases and wrinkles out of the aforementioned fabrics.
Clothes irons are the most suitable choice for families and for use by children and the elderly, for many come with safety features like auto-shutoff such as Rowenta DW6080 Eco-Intelligence 1700-Watt Energy Saving Steam Iron. Clothes irons are sturdy appliances and withstand prolonged usage throughout the day. Steam irons are especially favored for daily usage for ironing fabrics such as office wear cotton shirts and pants, bed linens and curtains and jeans and denim.
Pros of Clothes Irons
Clothes irons are time-honored appliances that are recommendable for large families or to be used by a large number of people.
Clothes irons provide a crisp finish to the clothes and can easily iron out creases and wrinkles by smoothly pressing through them.
Clothes irons are the best for ironing sturdy fabrics such as cotton, denim, and linen. Irons can easily maneuver the thick fabrics and smoothen any creases and wrinkles in them.
Irons use pure and distilled water to produce steam that can smoothen and clear creases.
They often come with many in-built features such as inbuilt steam blast, temperature regulation for different fabrics, soleplates, vertical steaming, auto shutoff and much more.
Cons of Clothes Irons
Clothes irons are not exactly suited for finer fabrics such as silk, rayon, cashmere, satin, etc. Even with temperature settings, there is a high chance of these material burning by irons. Irons are simply getting too hot for such delicate fabrics.
Clothes irons don't get through ruffles, sleeves, and frills easily and can ruin the silhouette of the cloth.
Clothes irons need ironing boards or any large area to be functional. This becomes inconvenient if you are short of space or travel often.
Ironing is a manual and time-consuming chore.
Tips for getting the most out of your irons
Always use pure and distilled water in your irons. If you use normal, tap water, there is a great chance of salt depositing in the base of the iron, which can damage the iron prematurely.
Freshly washed and clean clothes iron better. Make sure the clothes you iron are clean so you don't iron the sweat deep into the cloth.
Steam irons are the best on the market. More holes in the steam iron mean more steam control, therefore, crisper ironing experience ina short time.
When ironing delicate material, make sure the iron is hot beforehand. Use the lowest temperature settings possible.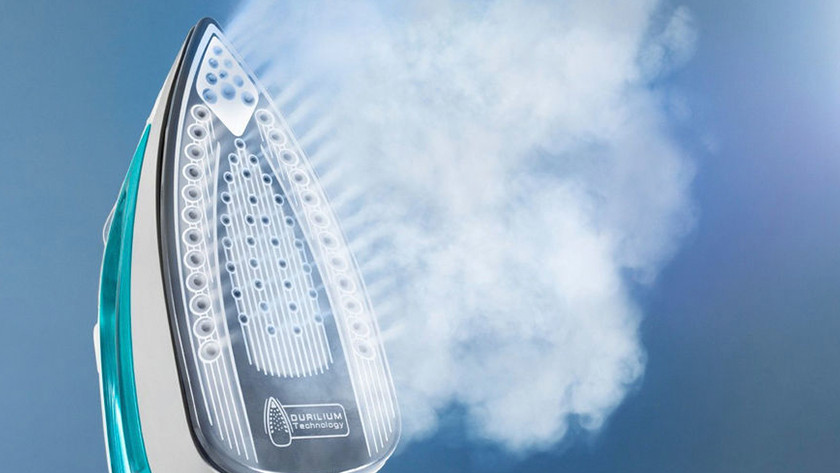 Steamers
If your closet is full of light, airy dresses made from delicate materials and fabrics, then a steamer is the best investment you can make. A steamer is a new-age appliance that has the same function as a clothes iron; it uses steam and electricity to iron out creases and wrinkles. However, steamers have one big difference from irons; they never make contact with the clothes. They blow steam onto the clothes directly.
Steamers are quite flexible and convenient. They come either as vertical, standing steamers with a long pipe attached to it or handheld portable steamers. They occupy less space and can easily be stored. This eliminates the need to buy space-hogging ironing boards. Often times, vertical steamers come with built-in racks, where you can hang the clothes that need to be steamed.
Once you hang up the cloth that you wish to steam, you can take the brush attached to the standing steamer or your handheld steamer and begin to steam the cloth. Hold the seamer firmly and take your time to apply the steam evenly and all across the cloth to smoothen out all the wrinkles and creases. Vertical standing steamers such as J-2000 Jiffy Garment Steamer with Plastic Steam Head is the best choice for at-home steaming.
Steamers are the best option for using delicate, sensitive fabrics such as wool, satin, silk, cashmere, etc. It doesn't directly touch the material, so there are zero chances of them burning. Fabrics or clothes difficult to dry such as suits, jackets, sweaters, printed shirts or tee-shirts, etc can easily be steamed using a steamer. Steamers can also get into small, intricate places in clothes like pockets, the crotch area, skirts folds, etc. Steamers can also get rid of foul smells in the clothes and freshen them up.
Hand-held steamers are also extremely convenient to use and can be portable and travel-friendly. The BLACK+DECKER Advanced Handheld Garment / Fabric Steamer is the perfect size of a steamer and can easily be traveled with.
Steamers have temperature settings as well, and the hottest they can get is 400 degrees. This is suitable for steaming cotton and wool easily. Their lowest temperature setting is perfect for delicate sensitive fabrics. It is recommended to use gloves while steaming thick fabrics as the steamers can get too hot to handle.
Pros of using Steamers
Steamers are easy to handle and provide quicker results than irons. The speed of the steamers is faster than irons and there is little manual work in steaming as compared to ironing. The hot steam is easier to blow onto the cloth instead of pressing into it.
Steamers are the best choice for sensitive fabrics such as silk, satin, polyester, rayon, chiffon, cashmere, etc.
Unlike irons, steamers hardly come in contact with the cloth that is being steamed so there is literally no chance of the clothe burning
The steam can actually kill bacteria living deep inside the cloth due to sweat and grime. Steaming can remove mild odors and freash up the clothes. Steaming removes allergens such as dust mites.
Steamers occupy little space and are extremely portable. Handheld steamers are great for those who travel frequently.
Steaming clothes can actually become an alternative to dry cleaning.

Cons of using Steamers
Steaming works great for delicate fabrics, but when it comes to cotton daily wear, such as shirts and pants, steaming will not be able to provide a crisp finish as an iron.
Steaming will not be a good choice for removing deep-set and many wrinkles in the clothes.
Freshly washed clothes respond well to ironing than to steaming.
Steamers cannot be used on leather or suede.
Tips for using steamers
Always wear thick gloves or mittens while steaming to avoid burning your hands
When steaming colored clothes, make sure to use the lowest temperature setting as possible. Colour has a chance of running out if moisture is applied excessively
Using excessive steam on clothes will damage them. You might loosen the seams in a jacket if you steam it too much.
Make sure the steamer head faces away from you to avoid hot water spillage and burning.

The Verdict
As we discussed above, both clothes irons and steamers have their fair share of advantages and disadvantages. The final verdict depends on the user; it is up to you to decide if a clothes iron is right for you or a steamer.
Clothes irons are a staple in any household and can iron a number of fabrics with ease. You can find numerous options on the market for a good, affordable clothes iron if you're short of cash. Also, they are sturdy pieces of metal that will last for a long time, even with regular usage.

A clothes iron is recommended for those who need crisp, fresh clothes every day. People working in corporate settings, and people who tend to wear cotton and denim on a daily basis, will find clothes iron a much efficient choice.

Steamers are the new and exciting innovation on the market. But that doesn't mean they'll completely replace the clothes iron.
They have their fair share of benefits. Steamers are the most suitable choice for using on delicate fabrics such as silk, satin, cashmere, etc. There is no chance of burning your clothes with a steamer.

The steamer also utilizes steam to melt sweat from clothes, thus removing bad odor and killing bacteria and allergens. Steamers can be used to freshen up your clothes during the day.

Steamers are easier to maneuver across clothes and usually take less time as compared to clothes irons. They are lightweight and don't need as much effort as it takes to press irons.

If you are constantly on the go and never find time in the morning for ironing your clothes, a steamer might be the thing for you. If your closet has mostly clothes made from delicate fabrics, a steamer is a perfect choice for you. A steamer can also be a great choice as it can help freshen up suits, jackets, and coats that are not easy to iron.

Steamers are very portable and are light to travel with. You can easily fit them in your bag and are usually lightweight and easy to handle.
In conclusion, it's not a bad idea to have both a clothes iron and a steamer at hand as both can greatly benefit from keeping your clothes crisp and fresh.
We hope you find this article insightful and helpful. Do check out more cool content on our website here-
8 Best Travel Steamers of 2020
The best Calvin Klein Perfumes for Men
The 9 Best BB Creams For Oily Skin Types
The 9 Best Face Primers for Mature Women