We all love a good manicure session– whether you get it done at a nail salon or at home. It can be a relaxing, rejuvenating experience and your nails never looked better! With a number of new nail styles flooding the market- acrylics, gel nails and many more, you are truly spoilt for choice.
However, it is known that with such constant nail sessions, your nails can take a real beating. All that application and removal of nail color can damage the nail in the long run. nails can turn brittle, dry and can become prone to splitting, peeling and breaking off
Of course, there are other factors that can contribute to weak nail conditions- a poor diet, being deficient in iron or proteins, biting or chewing nails, etc. It is always a good idea to recommend a doctor for such conditions.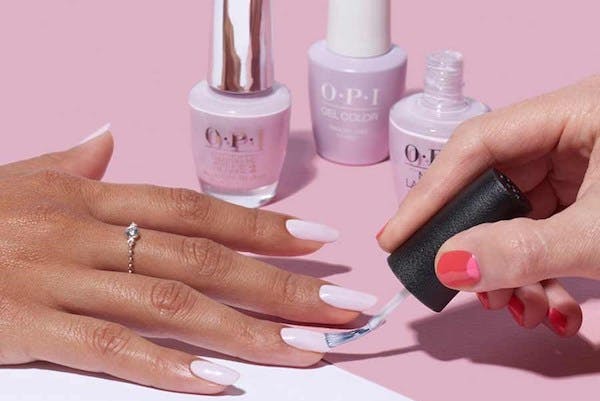 If you suspect that your nails are being damaged by nail polish usage, your best bet can be to use a nail strengthener or hardener. These unique products are often formulated with ingredients that can make your nails grow stronger and longer, can moisturize your nail bed and cuticles and protect your nails from peeling or splittings.
It is often recommended that nail strengtheners be used for a full week for you to see changes in your nails and you must apply nail color only after your nails are completely healed. Read on to discover our picks for the top 7 best Nail Strengtheners of 2020.
The Seven Best Nail Strengtheners of 2020
OPI Nail Envy Nail Strengthener, Nail Treatment
A bestseller on Amazon, this nail strengthener from the Internet's go-to nail polish brand has received rave review online. It has a dual function- it can act as a base coat for your nail polish and can strengthen brittle, soft nail all in once.
The strengthener helps your nail recover from dryness and brittleness, helps them grow long and strong and ensures your nail polish lasts for a long time. It also prevents your nails from discoloration and yellowing from your nail polish, so it is recommended you use it as a base coat.
Combined with the OPI Top Coat, the strengthener provides overall protection to your nail polish and makes it long-lasting. It can be used on its own or as a base coat as well.
Features
Nail strengthener rescues brittle, soft nails
Can be used on its own to protect your nails from damage
Can be used as a base coat
Can be combined with the top coat from POI for overall protection
Clear, gel-like texture for easy application
Dual purpose of both strenghtener and base coat
Easy application
Gel-like texture
Use togrther with top coat for overall protection of your nail polish
None- overall a great product
Ratings
4 stars out of 5 stars (average customer ratings)
Cuccio Revitalize Cuticle Oil
Another bestseller on Amazon, this amazing cuticle oil will transform your cuticles in no time. It also doubles up as a nail strengthener, ensuring your nails grow longer and stronger.
It comes in two variants- Honey & Milk and Pomegranate & Fig. Our personal pick is Honey & Milk, which comes in a cute bottle and has an amazing smell. It is a unique blend of vitamins, with honey naturally moisturizing the skin around the nail, while the lactic acid from milk strengthens and stimulates the skin, to make your nail grow stronger and longer.
The oil deeply moisturizes your cuticles and gets rid of dry, brittle nails. This aids your nails in growing stronger and healthier
Features
Bestseller on Amazon
Two variants- Honey & Milk and Fig & Pomegranate
Deeply moisturizes the skin on the cuticles
Helps nails grow longer and stronger
Easy drop applicator
Affordable
Nice smell
Deeply moisturizzing oil helps nails grow longer and stronger
None- overall a great product
Ratings
4 stars out of 5 stars (average customer ratings)
L'Occitane Nourishing Nail & Cuticle Oil
This cuticle oil from L'Occitane is infused with a blend of nourishing oils that will deeply moisturize and strengthen your cuticles to ensure your nails grow healthy and stronger. It is formulated with 30% of shea butter.
The cuticle oil is formulated with shea butter, sweet almond, castor and apricot oils that repair dry and brittle nails to deeply moisturize the cuticle area to strengthen and fortify your nails. Shea butter will nourish the cuticle area and keep it soft and supple.
The cuticle oil comes in an easy brush applicator. The oil can be easily massaged into the cuticles and the rest of the nail area for soft and healthy nails.
Features
Formulated with 30% shea butter for deep moisture
Contains sweet almond, castor and apricot oils to strengthen the nail area
Comes with an easy brush applicator
Bestseller on Amazon
Deep moisturizing to the cuticle area due to a blend of nourishing oils
Shea butter for intense moisturization
None-overall a great product
Ratings
4 stars out of 5 stars (average customer ratings)
Julep Take A Breather Oxygen Nail Treatment
The nail treatment from Julep helps provides overall protection and moisture for your cuticles and nails. It utilizes Oxygen Technology that improves oxygen permeability into the cuticles and nail bed, "allowing nail beds to breathe".
Its nutrient-rich formula consists of Hexanal that prevents your nail beds from splitting, peeling or nails from breaking or turning brittle and keeps them strong and healthy. Plant Stem Cells improve the condition of nails due to the presence of natural antioxidants and keratin
The nail treatment comes in two shades- Sheer Pink and Sheer Ivory. The treatment can be used on its own as well as it lends a subtle hue to the nails that is reminiscent of a classic nail manicure.
Features
A subtle hue of color; like a classic manicure
Utilizes Oxygen Technology for better oxygen permeability
Hexanal strengthens the nail beds and the cuticles
Plant stem cells enrich the nails due to natural anti-oxidants and keratin
Free from formaldehyde, formaldehyde resin, toluene, DBP, and camphor
Subtle hue of color
Natural anti-oxidants abd keratin strengthen the nails
None- overall a great product
Ratings
4 stars out of 5 stars (average customer ratings)
CND Essentials Nail & Cuticle Oil
Many of the CND Essentials products are used in nail salons by gel manicurists for their high-performing formulas and efficient results. This cuticle oil is no exception, its award-winning formula infused with Jojoba Oil, sweet almond oil and Vitamin E
The jojoba oil and sweet almond oil carry the Vitamin E deep into the nail bed to hydrate and strengthen the cuticles and ensure healthy, strong nails. Your nails will hold color and enhancements better and will not be prone to breakage or splitting.
It is recommended that you use this oil daily before a manicure (or after gel and acrylic removal) to deeply condition and moisturize the nail bed area to promote healthy growth of nails.
Features
Contains Jojoba oil, sweet almond oil, and Vitamin E
Doubles up as a conditioner and nail strengthener
Repeated use drives the oils deeper in the natural nail bed for healthy nails
Contains a blend of natural oils infused with vitamin E
Conditioner and Nail strenghtener all in one
Daily usage will lead to healthier nails
Ensure you dont suffer from any nut allergies before using this
Ratings
4 stars out of 5 stars (average customer ratings)
Nail Tek Intensive Therapy 2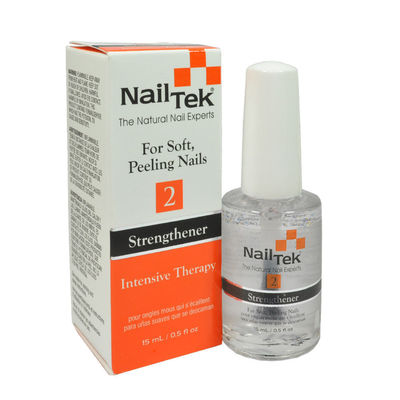 Nail Tek makes four variants for their Intensive Therapy Formula and the number 2 is specially designed for soft, peeling nails. It guarantees results in under 10 days.
It contains Hydrolyzed Protein and Vitamin B5 that treat dull and peeling nails to strengthen and fortify the nail bed and help them grow stronger and longer.
The formula seals the layers of the nail bed together and with daily usage will strengthen and fortify the nails to grow healthy, long and strong.
Features
4 unique formulations for every nail problem; type 2 designed for soft, peeling nails
Contains Hydrolyzed Protein and Vitamin B5
Can be used on its own, or as a base coat or topcoat
Protein formulation for strong and healthy nails
Results in under 10 days
Can be used on its own, as basecoat and topcoat
None- overall a great product
Ratings
Nailtiques Formula 2 Protein, 0.5 Fl. Oz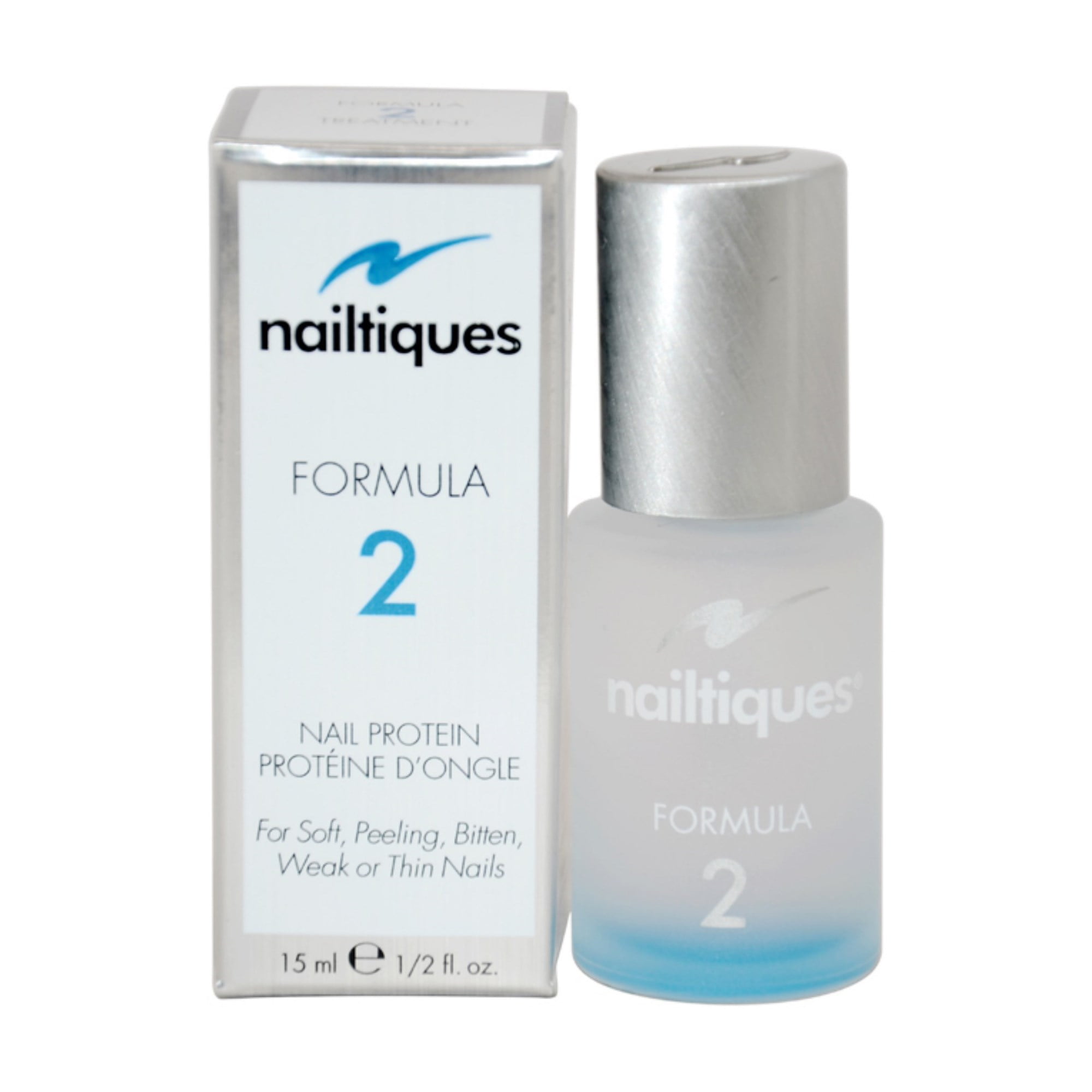 The formula 2 of this nail strengthener consists of a blend of protein such as hydrolyzed keratin and gelatin and calcium and conditioners that are designed especially for treating soft, brittle and peeling nails.
The unique protein formula helps build a strong protein base that ensures healthy and strong nail growth. Nailtiques' award-winning Protein Formula 2 is regarded by many as a cult classic product, winning numerous awards for its unique and protective formula and one-of-a-kind products.
Nailtiques advise that you use this formula 2 protein treatment on your nails an entire weeks to see proper results. You can remove it with a non-acetone remover. When your nails begin to see a difference, you can switch to their Formula 1 protein treatment. Daily usage will show effective results.
Features
Protein treatment contains hydrolyzed keratin and gelatin and calcium and conditioners
Award-winning restorative formula
Strong and healthy nails with daily usage
Protein treatment for your nails
Effective for brittle nails, peeling or dry nail bedds
Daily usage will show efficient results
None- overall a great product
Ratings
4 stars out of 5 stars (average customer rating)
How to choose a Nail Strengtheners
Taking care of your peeling or brittle nails need not be an expensive affair, neither do you have to make regular salon trips. There are many affordable options only, in the form of nail strengtheners and cuticle oils that can be used at home for fast results
Many nail base coats and top coats often come with strengthening or fortifying ingredients that can be used on their own as well. Some even come with subtle hues of color, for a classic manicure.
FAQ's
How often should I apply a nail strengthener?
It is recommended that you apply nail strengtheners after every manicure removal. This ensures that the nails are protected and any damage that they may incur from the manicure process is eliminated.
How should I apply the nail strengthener?
A single coat of the nail strengthener is enough for a one-time application. However, many nail strengtheners have dual purposes- they can be used as base coats or topcoats. This provides extra protection to the nails and makes the nail color long-lasting.
What does a nail strengthener do?
If you are a frequent nail polish user, or if you frequently go to the nail salon, chances are that you have noticed your nails becoming drier and peeling slightly. Due to constant removal and usage of color, nails can take a real beating. Nail strengtheners can repair any damage to your nails, as well as strengthen the nail bed and the nails from splitting, breaking or peeling off.
Summary
Nails can get really damaged with consistent use of nail polish or nail extensions. Investing in a cuticle oil or a nail strengthener will benefit your nails in the long run by protecting and restoring your nails to their healthy state. Our list of the top 7 nail strengtheners will surely help you find the right product for your concerns.
Do let us know your thoughts in the comment section below and check out more of our content here-
15 Different Nail Shapes – How To Pick a Nail Shape?
Top 10  Body Care Moisturizers in 2020
How to include fruits in your dinner
The 9 Best BB Creams For Oily Skin Types